Remember the days when we used to go to in-person events, such as trade shows? Robot demos have always generated a lot of foot traffic in booths. What's better to illustrate the synchronism of closed-loop stepper motors than 3 motors working together to create one specific motion?
Luckily, thanks to the internet, we can now share product demonstration videos through digital means. Parallel robots, or delta robots, have always fascinated me for its unique design (and possibly for its slight similarity to the Tachikoma spider robots from Ghost in the Shell).
Here's a 3-axis parallel robot demo we built using the AZ Series absolute stepper motors and drivers. Since the motor and driver were plug and play and included built-in mechanical absolute encoders, we were able to skip the sensor installation, wiring, and testing. We completed the demo quickly for a show without spending too much engineering time.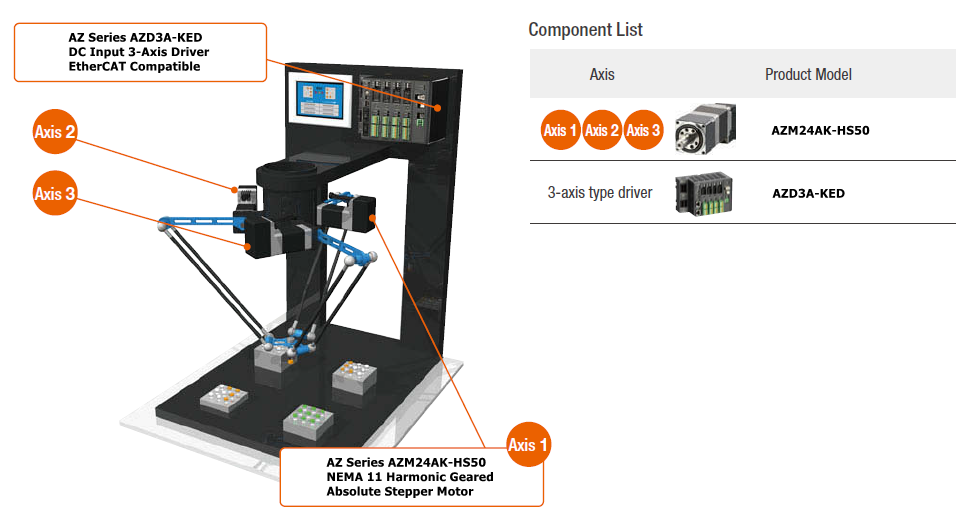 For multi-axis motor applications, it's helpful to choose the same product family for all axes of motion. Oriental Motor offers the same AZ series technology with a full range of frame sizes and gearing options; and also includes rotary and linear actuators. The advantages of using the same dedicated driver with all of these products is the reduction of the learning curve; especially for programming.
Building demos with the AZ series made it easy. We had a wide product breadth to work with, and we didn't have to learn much else besides the HMI software. Best of all, we avoided the wiring for the external home, limit sensors, absolute encoders, and battery. The built-in mechanical absolute sensor enables absolute positioning without a backup battery, which is an advantage when compared to absolute optical encoders on servo motor systems.
After going through a motor sizing process, a NEMA 11 equivalent frame stepper motor with a 50:1 harmonic gearhead (AZM24AK-HS50) was chosen. The small size of the motor is due to the only inertial load being the linkage arms. The weight of the linkage arms was kept light, so we did not need much torque or handle much load inertia. The zero backlash harmonic gearhead was chosen to ensure extremely accurate, bidirectional, and repeatable motion while keeping the motor size small.
The multi-axis EtherCAT driver was chosen to save space as well as be able to communicate to the HMI. Being able to access the I/O remotely via EtherCAT saved us a lot of time from wiring the I/O physically. Oriental Motor offers an EtherCAT driver to control up to 4 axes.
Compact, lightweight, and highly accurate harmonic geared motor
Frame size: 28/30 mm
Mass of each geared motor: 0.24 kg
Zero backlash harmonic gearhead
Built-in mechanical absolute encoder requires no power source
The absolute position information is retained even if the power is turned off
Avoid external sensors or encoders
Multi-axis driver improves communication and minimizes footprint
Compatible with EtherCAT, MECHATROLINK-III, or SSCNETIII/H.
2-axis, 3-axis, or 4-axis types are available.
Now, without further ado, please enjoy the short video as it shows how the 3-axis parallel robot picks parts from one tray and places it on another.
Meet the AlphaStep family
The "AlphaStep" name defines the proprietary closed-loop technology that powered its original AS Series stepper motors and is still in use now as the "Hybrid Control" technology. The AlphaStep family today includes the original AS Series as well as the newer AR Series and AZ Series stepper motors and dedicated drivers. In the last few years, the family expanded to include both linear and rotary actuators.
The AS Series was first introduced to the market in 1998 with its core technology - the Hybrid Control technology. A stepper motor would work in open-loop mode normally but switch to closed-loop mode when necessary with the help of a feedback loop generated by a built-in resolver.
In 2007, the AR Series was released with a patented low loss rotor and stator design. The low loss characteristics allowed continuous duty cycles with stepper motors, which allowed it to compete better with servo motors. However, similar to absolute encoders, its resolver feedback system required a battery for absolute position control.
With the newest AZ Series introduction in recent years, Oriental Motor kept the existing 2 technologies from the AS Series and AR Series, and added battery-free absolute positioning capabilities with the patented "ABZO" multi-rotation mechanical absolute encoder.
With all 3 technologies combined into one product, the AZ Series presents a viable alternative to servo motor systems. For more information, please refer to this blog post or the website.
Please subscribe!