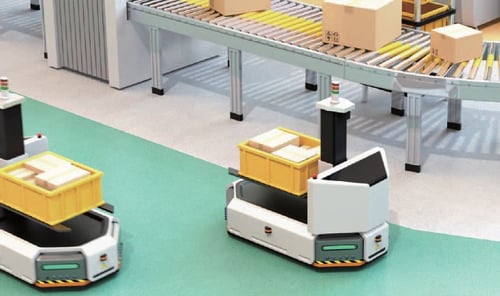 In the market of electric motors, there are products designed for general purpose applications, and there are motors designed for specialized applications, such as automated guided vehicles (AGVs) or autonomous mobile robots (AMRs). While standard, general purpose motors work for most applications such as factory automation, sometimes, it may help shorten your design cycle by going with a motor system that already offers the features that you are planning to implement into your design. In this post, we will summarize some of these features.
Accurate Speed Regulation Prevents Weaving
Speed variation between the right and left wheels may cause a transport vehicle to weave and produce undesired results.

With built-in speed regulation using hall-effect sensors, speed fluctuations can be minimized, which reduces

the speed variation between wheels and prevents weaving.
Vector Control for Ramp Operation
In a ramp operation, speed regulation is difficult to maintain because gravity tend to overdrive the motor on its way down and increase its speed. By using the built-in "Vector Control",

highly accurate torque control and load factor monitoring

can maintain tight speed regulation, and back EMF can be controlled effectively.
Low Battery Operation

For battery operated vehicles, battery power is essential to keeping uptime. What happens if the battery is close to depleted? Motor systems that can work with low battery power can help maintain operational efficiency. For such systems, a wider range of input voltage can be accepted, and a limit is automatically placed on the speed range according to the input voltage. When the power supply voltage falls below a user-set level, a warning is output from the driver and can be used as an indication to return the AGV back to a recharging station.
Constant Torque & Wide Speed Range
| | |
| --- | --- |
| | Built-in limits on speed and current prevents overheating for continuous duty operating cycles and maintains tight speed regulation even with fluctuations in load. |
Unique Flat Hollow Shaft Gearhead Design with High Load to Motor Ratio
| | |
| --- | --- |
| | A unique flat style hollow shaft gearhead can be directly connected to the wheel shaft without a coupling, which helps minimize footprint for vehicle drivetrain designs. |
| Larger diameter gears, larger diameter bearings, and rigid case design of the flat style gearhead help deliver high torque and high permissible radial load for high load capacity. Since there is no saturation of permissible torque, higher torque can be achieved than with a conventional parallel shaft gearhead. | |
Network Capability

| | |
| --- | --- |
| | Wheel shaft speeds, load factor, alarms from all axes of motion can be integrated into one network for real-time monitoring. |
TIP: Improve Stop Accuracy & Avoid Back-Driving
| | |
| --- | --- |
| | Proper use of deceleration control can reduce overrun for more accurate stopping. For example, the difference of overrun between stopping a motor at 3,000 RPM vs a motor at 80 RPM equates to over 330 mm (with a 200 mm wheel diameter). |
| Manually back-driving an AGV or AMR can sometimes generate enough back EMF to damage the power supply or drive circuits. A power-off-activated electromagnetic brake can help lock it in place for loading/recharging or hold a load for vertical operation. | |
Learn more about these features by reading our white paper:
---
Recommended Product
Oriental Motor's BLV series consists of a motor and dedicated driver for guaranteed specifications. Built-in features, such as Vector Control and Low Battery Mode are designed specifically for battery-operated vehicle applications. The BLV series is offered at 1/4 and 1/2 HP; with rated torque up to 970 lb-in with the FR flat style gearhead.

For other product options, please contact our technical support engineers.
TIP: Use Our Quick & Easy AGV Motor Sizing Tool
| | |
| --- | --- |
| An undersized or oversized motor can create headaches later. Find the perfect motor for your AGV by using our AGV motor sizing tool to calculate the 3 most imporant factors for motor sizing: torque, speed, and moment of inertia. | |