Servo motor systems are expensive but great for demanding applications that require high speed, peak torque, or feedback. Stepper motors are cost-effective but do not offer the peace of mind of feedback. For designs that do not need the bells and whistles of servo motor systems, there is another option.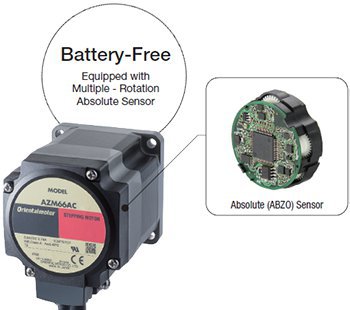 Oriental Motor's AlphaStep AZ Series family of motors, actuators, and smart drivers offer a way to combine the best of open-loop and closed-loop performance.
👍 Closed-Loop Feedback
An (ABZO) magnetoresistive mechanical absolute sensor technology is utilized as feedback for the AZ Series stepper motors, which can retain up to 1,800 revolutions of absolute position data for reliable positioning and faster homing speeds. Unlike servo motors with absolute optical encoders, a separate power supply or backup battery is not necessary to maintain position tracking.
To ensure reliability, AlphaStep systems utilize a patented Hybrid Control algorithm where the motor operates in open-loop normally but switches into closed-loop for self-correction once the system detects an abnormality, such as overload or overspeed. This ensures the best performance for normal and overload conditions.
👍 High Speed Performance
The motor is wound in bipolar-parallel for the best high speed performance from a stepper motor. AlphaStep's Keep-In-Step technology optimizes the timing of motor phase switching to enhance the performance further. The "Smooth Drive" technology removes excessive vibration and noise, and a "servo emulation" mode enables efficient current control.
Here we compare the speed torque curve of an AlphaStep AZ Series stepper motor to a servo motor.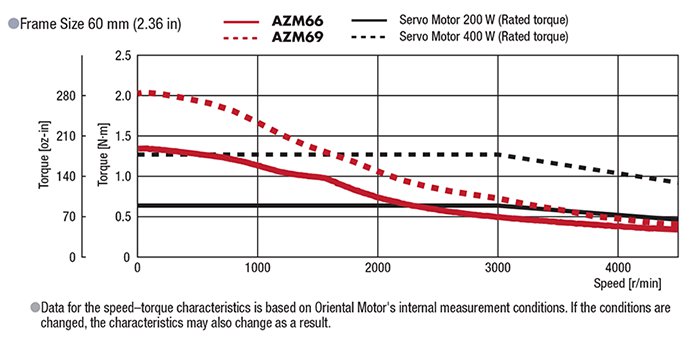 Here's a performance comparison between an AlphaStep AZ Series stepper motor and a servo motor on a rotary index table. The AZ Series stepper motor can position quicker for shorter distances while servo motors can position quicker when the travel distance is more than 4 revolutions.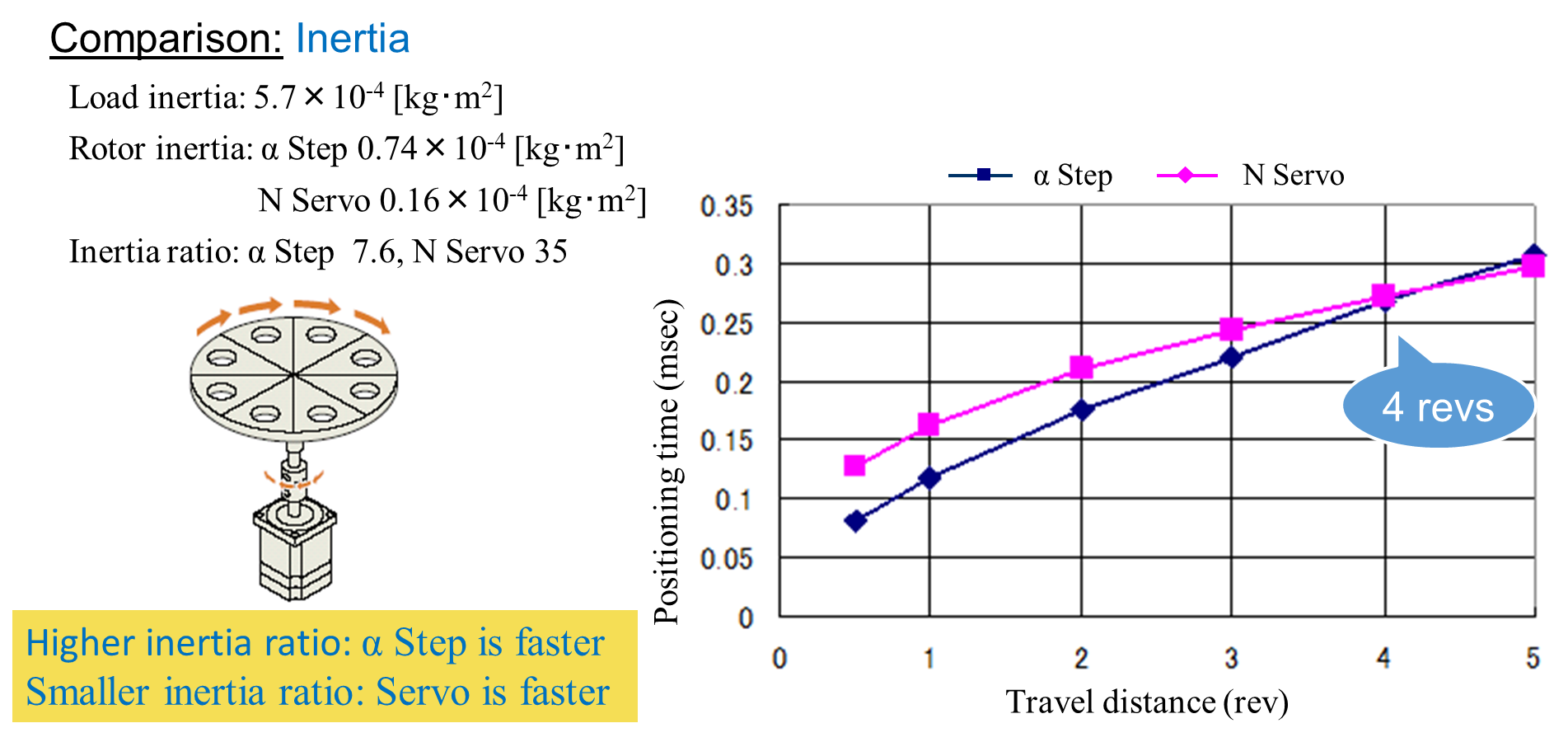 Servo motors can typically handle a higher inertial load than closed-loop stepper motors. However, the gain setting may cause the motor to have a slower response when handling high loads. This is why the AlphaStep AZ Series stepper motor is able to position a load with high inertia ratio in a shorter amount of time. With a smaller inertia ratio, servo motors will be faster.
👍Stop Accuracy
Stop accuracy is more consistent than a servo motor with a 20-bit encoder. The high pole count helps.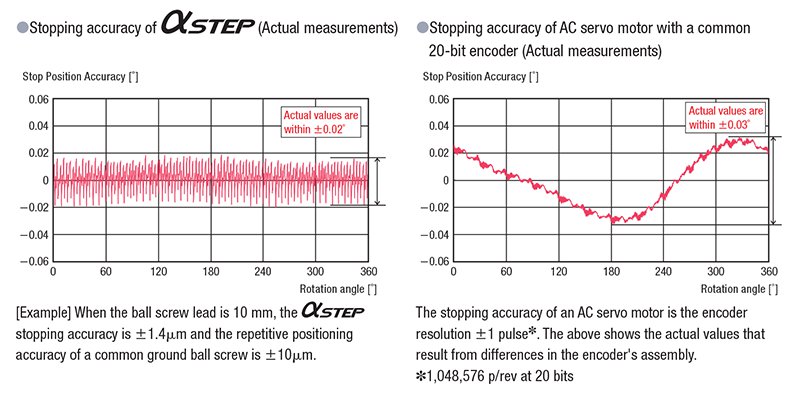 👍 Efficiency
The AlphaStep AZ Series also uses our patented low-loss lamination technology to minimize loss.
Lower Operating Temperature

Motor surface temperature is also reduced, which expands the application range of the AZ Series.

Continuous Duty is Possible

As losses are minimized, the heat generated from the motor is reduced.

Lower Power Consumption

Power consumption is reduced by 47% when compared to older conventional models.
👍 Network Support
Another advantage that servo motor systems can offer is the inclusion of popular industrial communication protocols to connect to various PLCs, HMIs, IPCs, and other host controllers. However, stepper motors now offer the same connectivity options. Many types of AlphaStep AZ Series drivers are available with Modbus (RTU), EtherNet/IP, EtherCAT, Profinet, CC-Link, Mechatrolink, and SSCNETIII/H.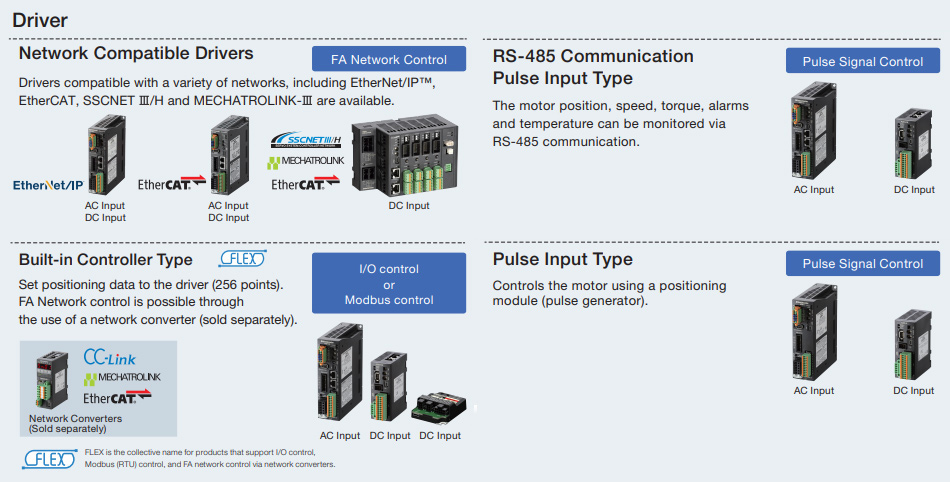 👍 Easy, Powerful Programming
An easy-to-use data setting software is available to program motion sequences and link up to 256 different motion profiles with fully customizable parameters, such as operating current, push motion, or loops. The MEXE02 support software for the AZ Series provides many useful functions to enhance its capabilities and is the most powerful software we've released up to date. Advanced functions, such as wrap proximity positioning, operation I/O event, and data direct operation (network type) are available to support decentralized control.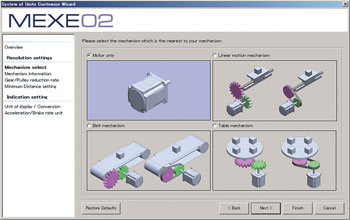 Data

Operation data
Operation I/O event
Extended operation data set

Parameter

Base settings
Motor & mechanism
ETO & alarm & info
I/O action and function
Direct-IN function
Direct-OUT function
Remote-I/O function
Communication

Monitor

Teaching, remote operation
Unit information monitor
Status monitor
Direct I/O, remote I/O monitor
Internal I/O monitor
Alarm monitor
Information monitor
RS-485 communication monitor
Waveform monitor
I/O test
With efficient low-loss technology, innovative absolute position control, reliable hybrid control technology, and a variety of motors, actuators, smart drivers, and network options, the AlphaStep AZ Series presents a flexible closed-loop motion system that closes the gap between stepper motors and servo motors.
For the right application, the AlphaStep AZ Series can help reduce cost and complexity while offering many features and functions that servo motor systems offer.
Demo

: 7-Axis Articulated Robot Arm

The video also shows a new "mini" driver that can help reduce footprint.

NEW

AZ Series mini Drivers
There are two ways to operate multiple axes of AlphaStep family products.
| | |
| --- | --- |
| Multiple Single-Axis "mini" Drivers | One Multi-Axis Driver |
| | |
Interested in speed control? Our
can also replace servo motors in some applications.